Live 8 a Rousing Success: African Poverty "Solved"
Posted by a4g @ 7/03/2005 07:49:00 AM


At the mega-concert Live 8 today, organizers realized the fifty-year goal of replacing the capitalist hegemony which dooms billions to hunger, with pure, hard-driving rock.
"Everything that's rock n roll is ever meant to be is happening now," said Bob Geldof, the event's founder. Live 8 was organized to push political leaders to spend heavily from public coffers on Africa.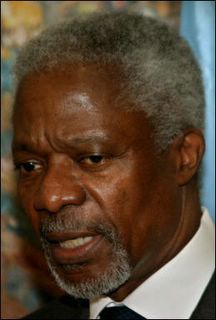 "Live 8 has solved all the problems the UN has tried to address. I'll be shuttering Turtle Bay on Tuesday. I sincerely hope the Oil for Food investigations are complete by then."
Bono, lead singer of U2, exclaimed, "This is our moment, this is our time, this is our chance to stand up for what is right. Three thousand Africans, mostly children, die every day of mosquito bites. We can fix that."
Kofi Annan, speaking just after the final notes of Paul McCartney's closing number, declared African poverty "solved."
"Too long have we addressed only the symptoms of Africa's problems," said Annan at a press conference later in the evening. "The musicians of Live 8 have addressed a different set of symptoms. It's this two-pronged approach that ultimately doomed Africa's cycle of hopelessness to its end, which by my reckoning occurred three hours ago."
Across Africa, reaction has been jubilant. In Darfur, impromptu celebrations spread across settlements. Millions of AIDS cases were believed to be spontaneously cured by the rebellious spirit of Rock. Across the continent, Africans were overjoyed that rich Westerners had finally accepted the "White Man's Burden."
Robert Mugabe, President of Zimbabwe, on a tour of a prison facility holding hundreds of minority Ndebeles, was said to be especially moved by REM's "Everybody Hurts," noting as he surveyed his surroundings, "It's so true... and it's on my orders."
Madonna, wearing a Kaballah bracelet, summed up the evening best: "Is there any problem in life that can't be solved by doing something that makes you feel good?"
Get The Real Story:
Rob, guest blogging at
Wizbang
, gets it.
Captain Ed
notes the schizophrenia at the Times that mirrors the Live 8 participants. The Times mirrors the idealistic Bono, their guest editorialist, the more sober Bob Geldof.
Is there anything more American than open trackbacks?
Mudville Gazette
.