New Products, Services Arrive For 'Abortion Chic'
Posted by a4g @ 5/16/2005 06:45:00 AM


The London Daily Mail reports on a shocking trend of multiple abortions among British women, one woman reported to have had 6 abortions in a 12 month period. With one out of three abortions performed on 'repeat customers', abortion providers and cunning entrepreneurs are scrambling to serve this new 'Abortion Chic' trend. With only 1 in 100 abortions occurring in the UK for medical reasons, it is clear that 'lifestyle' is high on the priority list of these up-and-coming go-getter gals.
Abortion providers are catering to these fashion- and value-conscious ladies with promotions such as the "Frequent Aborter Discount Card", which offers a first-trimester chemical abortion free with four paid vacuum extractions; "Dinner and an Abortion Night," where ten to fifteen ladies enjoy a great meal together, then finish it off with an abortion; and "Abortisuction," a refresher tummy liposuction with one extra deep jab to pick off the inconvenient pregnancy tissue.
But not just abortion providers are getting in on the trend. Retailers are coming on strong with new products to appeal to these lovely ladies.
Collabra Pharmaceuticals introduces a prosthetic cervix with handy pull plug, for the safety and comfort of taking care of abortion needs from home.
The Sharper Image introduces a handy meter for the frisky lady, with a large, easily readable 'Vacant' notice for whenever she's "ready for a new fare".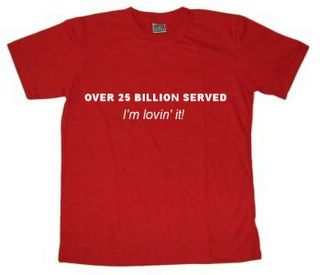 And don't forget fashion -- these retailers haven't. They've got old favorites like "I've Had An Abortion," and newer, "funner" shirts like the one above.
All in all, abortion is coming out of the closet, and into a mall near you!
UPDATE: A reader emailed me to comment that with news like this, the world was surely ending, that God's perfect retribution would rain down on us like searing hellfire.
Ridiculous, I replied, this isn't the end of the world!
It's just really, really, really, really close.