Huffington Post To Go Dark To Mourn Passing of Eddie Albert
Posted by a4g @ 5/27/2005 09:34:00 PM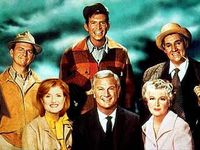 The Green Acres Cast, clockwise from left, Alvy Moore, Tom Lester, Pat Buttram, Eleanor Audley, Eddie Albert, Arianna Huffington

Millions of Americans are mourning the passing of beloved actor Eddie Albert, who died May 27th in his Pacific Palisades home, surrounded by loved ones. He was 99.
The news comes as a special loss to new blogging maven Arianna Huffington, who starred beside the amiable actor in the classic television series Green Acres, from 1965-1971. Albert, who played Oliver Douglas, a New York lawyer, was paired with Arianna, who played his glamorous--but luxury loving--wife.
The Huffington Post will observe a day of mourning tommorow, to "celebrate Mr. Albert's contributions to the noble art of drama." Larry Gelbart is to write on "The Magic of Roman Holliday", Harry Shearer will reminisce over "The Grand Man of Falcon Crest", and Jim Lampley will contribute "Escape to Eternal Mountain."